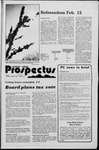 Description
REFERENDUM FEB. 15; Voting hours extended, 7-7: Board plans tax vote; Vocational-Technical Programs Topic Of Report; Student Representative Sworn In; Special Election Resolution Amended; President's Report; Three Career Programs Added; Personnel Report Adopted; PC mews in brief: Calendar errs, Voter registration info given, Cancelling Classes Due to Snow; Letters to the editor: 'Handicapped' guidelines set, Talk to us..., Parent Power!; Editorial: Bookstore must change; Stu-Go begins year with resginations; Ice Capades tickets; Three fires strike Champaign; fifth column: No wonder no one goes to movies; Remember?: Fall sem. review; Diane Alexander no newcomer to student politics; Students critical of TV coverage; Break at Parkland; Sociological Association meets; Campustown may get a 2nd Chance after fire; Media Sceen: Fifth network should start in Fall; Rantoul's Breezy 26 year tattooer: 'Roses, butterflies' most popular; Classifieds; Women Cagers meet Danville tonight; Intramurals start Jan. 26; Madlock signs at Gery and Al's; Track starts Thursday; Olney beats Cobras in 'thriller'; Cobras solidly defeat Lincoln Land last Tuesday; Baseball your game?
Publication Date
1-25-1977
Keywords
community college, student newspapers
Disciplines
Journalism Studies | Mass Communication
Creative Commons License


This work is licensed under a Creative Commons Attribution-NonCommercial-Share Alike 4.0 International License.
Recommended Citation
Lower, Jerry; Lex, Joe; Dittman, John; Murray, Jim; Hinton, Dave; Miller, Joe; Henely, Joey; Shankman, Brian; Alexander, Doug; and Hartman, Ken, "Prospectus, January 25, 1977" (1977). Prospectus 1977. 31.
https://spark.parkland.edu/prospectus_1977/31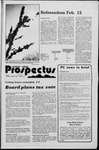 Included in
COinS