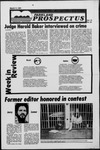 Description
JUDGE HAROLD BAKER INTERVIEWED ON CRIME; Week in Review: World, Nation; Former editor honored in contest;Barnes explains what Ms. Parkland is about; Letters to the Editor: Student on Barnes' side, Student and Stugo settle problems, Vaugn displeased with Barnes, Enraged student upset about participation, Winter trash building up; Women's program offers two evening workshops; Parkland will host mathematics contest; Deadline; Cosmos courses coming Parkland; C.P.R. class coming soon; Tikva Naam Dancers at PC.; Mid-semester registration offered; Bicycle repair and maintenance; New programs underway; Alender is ramblin; Students speak on culture; WPCD Top 30; Trebilcock to speak on fashion; The Reruns: A rockin' time; Globetrotters entertain at Assembly Hall; This is just a portion of the Globetrotters accomplishments!; What do YOU always put off or delay?; Classifieds; Cobras finish fourth in state: wind op 27-5; Patrick finishes fourth; Park district needs volunteer coaches; Soccer program begins; Smith wins Fast Freddy competition; Benchwarmer: Softball team experienced in 81.
Publication Date
3-11-1981
Keywords
community college, student newspapers
Disciplines
Journalism Studies | Mass Communication
Creative Commons License


This work is licensed under a Creative Commons Attribution-NonCommercial-Share Alike 4.0 International License.
Recommended Citation
Byrd, Bob; Barnes, Bill; Weathington, Darleen; Alender, T. Scott; and Slack, Chris, "Prospectus, March 11, 1981" (1981). Prospectus 1981. 25.
https://spark.parkland.edu/prospectus_1981/25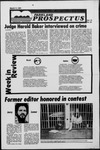 Included in
COinS