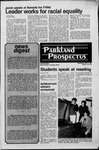 Description
JACOB SPEAKS AT RAMADA INN FRIDAY: LEADER WORKS FOR RACIAL EQUALITY; News Digest; Students speak at meeting; Achievement winners announced; Senator voices opinion on issues; Students should help StuGo out with input; WPCD not real issue -- fear of change is the problem; Foreign film festival offered next week; P.C. Happenings...: Circle K thanks jellybean guessers, Learn to manage time, Phi Beta Lambda thanks helpful people, Program focuses on wellness, Swing Choir places first, P.C. sponsors management workshop, Thanks to all who helped in blood drive, Parkland plans for Ground Zero Week, Swing Choir to perform today, Rathskeller to play 1st outdoor concert; Phi Beta Lambda: bettering business; Students to meet to help ratify ERA amendment; Positive attitude important in job hunting, interview; Motorcycle trips are a great way to go; Alcoholics find needed help at AA; Bicycle tour scheduled; Respiratory therapy offers many career opportunities; Community Calendar; Classifieds; Theatre production performances scheduled; This movie is a four-way winner; What's been happening in the music world?; Weather keeps team prisoner; Men's baseball 12-game statistics; StuGo answers questions about new widescreen TV; Cancelled practices may hurt team play; Sports Watch...
Publication Date
4-14-1982
Keywords
community college, student newspapers
Disciplines
Journalism Studies | Mass Communication
Creative Commons License


This work is licensed under a Creative Commons Attribution-NonCommercial-Share Alike 4.0 International License.
Recommended Citation
Mayer, Terri; Carroll, Pedro; W., S.; Gantter, Gwyn; Sapp, Albert L.; and Hieftje-Conley, Mark, "Prospectus, April 14, 1982" (1982). Prospectus 1982. 23.
https://spark.parkland.edu/prospectus_1982/23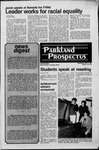 Included in
COinS