Preview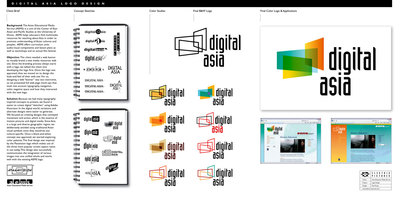 Description
Background: The Asian Educational Media Service (AEMS) is a unit of the Center of East Asian and Pacific Studies at the University of Illinois. AEMS helps educators find multimedia resources for teaching about Asia in order to promote understanding of Asian cultures and peoples. AEMS offers curriculum units, audio-visual components and lesson plans as well as workshops and an annual film festival.
Objective: The client needed a web banner to visually brand a new media resources web site. Since the branding process always starts with a logo, we Convinced the client to develop the logo first. Once the logo was approved, then we moved on to design the look-and-feel of their web site. For us, designing a web "banner" was too restrictive, so we presented full web page mock-ups that took into account typography, navigation, color, negative space and how they interacted with the new logo.
Solution: The client wanted "presentation quality" proposals, so each concept was drawn up as finished art in Adobe Illustrator, then refined as needed. Each of these designs conveyed movement and action, which is the essence of motion pictures and digital media. Since Asia is a large and diverse geographic region, we deliberately avoided using traditional Asian visual symbols since they would be too culture-specific. Once a black-and-white concept was approved, we started exploring color palettes. The final design successfully communicates the integration of various images into one unified whole and works well with the existing AEMS logo.
Keywords
Digital Asia, University of Illinois
COinS