Preview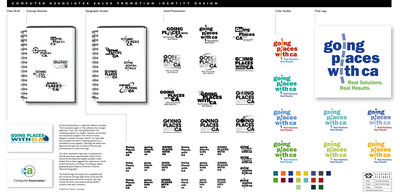 Description
Computer Associates is a high-tech software company. Their corporate tagline is "the software that manages eBusiness." Their new "Going Places with CA marketing program is a reseller retention, recruitment and reactivation program. The client's in-house designers created a concept "sketch" of a logo (left) that conveyed the theme "traveling partners on a profitable journey together." Although the theme was approved, the logo was not. Electric Pictures was commissioned to rework the logo.
The client requested a log that is corporate but friendly, easy, warm, approachable, simple. Colors should not be heavy, but brighter, possibly a safari feeling. Theme ideas suggested for exploration include visual treatments in the flavor of roadmaps, safaris, geography, space, explorer, Discovery Channel, National Geographic.
The finished logo will need to be compatible with the corporate CA logo (left). Some of the planned marketing pieces that will be using the new logo include ads, direct mail, posters, pocket folders, coupons, web sites. invitations.
Keywords
Computer Associates
COinS