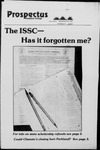 Description
THE ISSC -- HAS IT FORGOTTEN ME?; CLEP exam given here; College Cuisine; Stu-go has meeting, make new decisions; Tension and stress workshop at Union; Judging Team to be selected; Advertising Policy; President Staerkel believes…Parkland to suffer if Chanute closes; P.C. installs computer for central processing; Rear receives scholarship; Tour given at channel 15; Workshop at PC; PATH requests improvements; Hastings to speak to PTA; Women's program to show film; PC music dept. needs players; Let's be a tree today, class; WPCD's Top 15 For The Week Of Oct. 2; The ISSC and Parkland's applicants-- Checks out, awards in-- looking better; U of I professor goes for graphic, while Princeton writer idealistic; Parkland activities for Oct. 4-Oct. 10; Free Classifieds; Debate reorganizing; Weekly events; Broadcast students form a new club; Birth control to be discussed Oct. 10; Nelson--Country's King; Students meet; V-ball record 3-1; PC golf team places 14th; Cross country meet Oct. 7; Fast Freddy Contest; Perfect score!
Publication Date
10-4-1978
Keywords
community college, student newspapers
Disciplines
Journalism Studies | Mass Communication
Creative Commons License


This work is licensed under a Creative Commons Attribution-NonCommercial-Share Alike 4.0 International License.
Recommended Citation
Wallace, Val; Blackmore, Teri; Smith, Cindy; Montgomery, Mona; Rosenbery, Pete; and Schmitz, Tom, "Prospectus, October 4, 1978" (1978). Prospectus 1978. 10.
https://spark.parkland.edu/prospectus_1978/10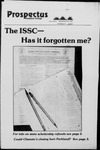 Included in
COinS