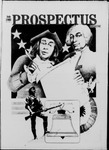 Description
JULY 4 FESTIVITIES WILL BE REAL BLAST; Welcome; Summer is best for aid applicants; Stu-go president wants to greet, meet students; When lights go down; Looking ahead: College for Kids, Thunderbirds, Roadeo, Reviews; Hardee's -- best eatin' at Parkland; Notice; Remodeling continues; It's a kid's world, for sure; Up, Up, Up, and away --all in formation; Mosquitos are coming, can carry encephalitis; Kids and TV get reviewed; Don't blame neighbors for nature's own faults; What d'ya say?; Sunshine Theatre is a first for C-U; The only chills come from drinking soda; Ride 'em busboy?
Publication Date
7-1-1980
Keywords
community college, student newspapers
Disciplines
Journalism Studies | Mass Communication
Creative Commons License


This work is licensed under a Creative Commons Attribution-NonCommercial-Share Alike 4.0 International License.
Recommended Citation
Schmitz, Tom; Vaughan, Cynthia; Wienke, Sharon; Pregler, Randy; and Page, Mary, "Prospectus Magazine, July 1980" (1980). Prospectus 1980. 26.
https://spark.parkland.edu/prospectus_1980/26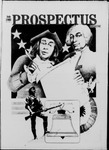 Included in
COinS